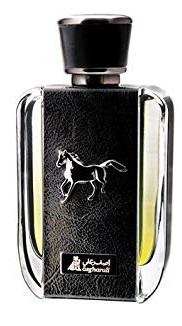 Asgharali Faras Al Adham
FARAS AL ADHAM the scent that draws the attention for its fragrance of fougere woody and spicy scent.
Magnificent and strong are the founding principles for this fragrance earning high praises for the accords that surprisingly combines bergamot, saffron and coriander aroma as its top notes.
To make it more ravishingly mesmerizing are the heart note with the accords of lilies of the valley and grey amber for balancing the fragrance's complexity and richness. Damply powdery and soft are from its sweet vanilla notes and yet an intensifying black amber and sandalwood has always been pleasing to our olfactory. The bottle beautifully designed with black leather and an emblem of staggering horse, depicting a strong, fierce and authoritative masculinity feature. The new edition Faras Al Adham Eau de Parfum arrives in a 100ml bottle.
Fragrance: Fougere Woody Spicy
Top Note: Bergamot, Saffron, Coriander
Heart Note: Lily of the Valley Grey Amber
Base Note: Vanilla, Black Amber, Sandalwood
Choose your item
Reviews (0)
Must be logged in to write a review please login [Here]