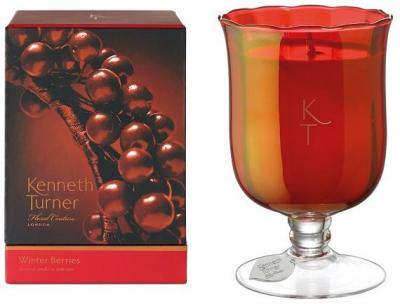 Kenneth Turner Candle in Stem Vase - Winter Berries
A rare vintage of sweet red berries, satsuma and cinnamon in harmony with iris and vanilla.
A beautiful home decorated for the season, a blazing log fire, a table laden with fabulous food and the intoxicating scent of mulled wine, berries and goodwill.
Complete with a decorative leaf charm around the base and stylish topper to help keep dust from your candle, or used as a coaster when the candle is alight.
Once your candle has burnt down completely, wash the vase in warm soapy water to remove any residue and dry with a soft cloth. It can then be reused for tealights or a short stemmed flower arrangement.
Made in the UK with 100% cotton wick. 580g Scented Candle in Coloured Glass Stem Vase - up to 95 hours burn time
Choose your item
Reviews (0)
Must be logged in to write a review please login [Here]