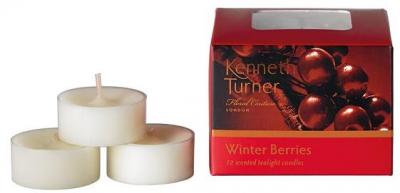 Kenneth Turner Tea Light candles - Winter Berries
A rare vintage of sweet red berries, satsuma and cinnamon in harmony with iris and vanilla.
A beautiful home decorated for the season, a blazing log fire, a table laden with fabulous food and the intoxicating scent of mulled wine, berries and goodwill.
12 Luxury Scented Tealights in a beautiful box. Each tealight has up to 4 hours burn time and comes in a translucent cup so as not to spoil the glow from your tealight holder.
Made in the UK - Box of 12 - 4 hours burn time each
Choose your item
Reviews (0)
Must be logged in to write a review please login [Here]