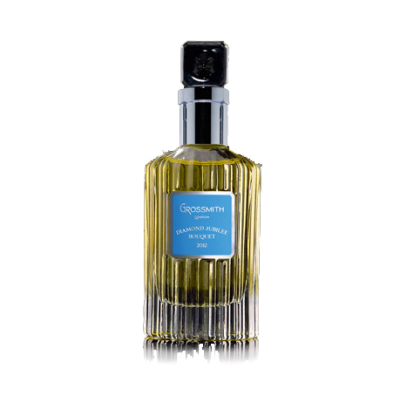 Grossmith Diamond Jubilee Bouquet
'The Royal Perfume'
A 500 piece Limited Edition
Grossmith has created a Limited Edition of this new, modern fragrance, Diamond Jubilee Bouquet, to celebrate the occasion of the Diamond Jubilee of Her Majesty Queen Elizabeth II.
The subtle combination of flowers from her Majesty's Kingdom, combined with rich exotic notes, creates a floral tapestry with understated sophistication and warmth.
A creamy floral fragrance opening with lively citrus notes, highlighted by soft Lily of the Valley and Narcissus. An elegant floral heart of Rose, Iris, Jasmine, Violet and Carnation. Balanced by a warm, sensual base of Vetiver, Vanilla, Tonka Bean, Hawthorn, Amber and Musk.
Limited Edition of 500
A donation will be made to the Queen Elizabeth Diamond Jubilee Trust for every bottle sold.
Choose your item
Reviews (0)
Must be logged in to write a review please login [Here]