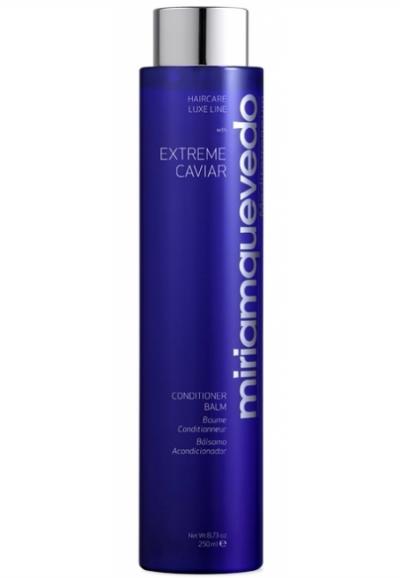 Miriam Quevedo Extreme Caviar Conditioner Balm
Luxurious conditioning balm specially designed to hydrate and regenerate hair, noticeable after just one use. Formulated with Caviar it provides vitality, hydration, nutrition and shine, while it acts against the aging process, treating the five most common symptoms of unhealthy hair - split ends, eroded cuticles, premature hair loss, lack of vitality, and irregular sebaceous glands. It smoothes the hair fiber leaving your hair silky soft with a healthy shine.
Who it's for: For all hair types.
What it's free of: Formulated without Parabens, Mineral Oils, Phthalates, Paraffin, Petrolatum
Caviar: One of the most exclusive anti-aging ingredients given its abundant composition of essential amino acids, structuring peptides, proteins, essential fatty acids and trace elements. Intensely protects both hair and scalp and restructures broken down Keratin, all while restoring hydration, strength, and elasticity for more vibrant, youthful-looking hair.
5 Trace Elements Complex: Made up of magnesium, iron, zinc, copper and silicium it provides cells with critical nutrients to ensure strong division of cells and optimal hair growth.
Hydrolyzed Keratin Peptide: Repairs, replenishes and protects Keratin, the key structural component found in hair. Smoothes hair's surface resulting in a natural and beautiful luster while creating a protective film to protect against thermal damage. Restores hair fiber giving it body, volume and shine.
Marine Collagen Peptide: Provides softening and conditioning effects while creating a protective film from root to tip and repairs damaged hair.
Multi-vitamin B Complex: Cocktail of five B vitamins (Thiamine – B1, Riboflavin -B2, Nicotinamide - B3, Pantenol- B5, and Pyridoxine - B6), defends against oxidative stress, increases the protective and regenerative properties of hair´s natural keratin and promotes healthy hair growth.
Multi-Vitamin 8 Complex: Provides a cocktail of 8 essential vitamins (A, B2, B5, B8, C, E, H and PP) to the heart of the hair follicle and helps regulate sebaceous glands.Strengthens, protects and stimulates
Choose your item
Reviews (0)
Must be logged in to write a review please login [Here]