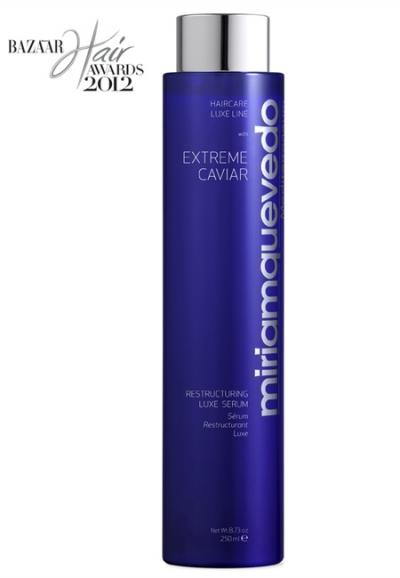 Miriam Quevedo Extreme Caviar Restructuring Luxe Serum
Hair perfecting miracle worker – Caviar based formula intensely repairs damaged hair with a gorgeously glossy finish. Winner of Harper's Bazaar Beauty Awards 2012. This weightless leave-in serum is fortified with a cocktail of vitamins, amino acids and peptides that regenerate hair from the inside out. Structuring proteins bind to hair creating a seal that locks in moisture and protects against heat styling and oxidative stress. It also conditions and smoothes hair's surface to eliminate frizz and imparts unprecedented shine while restoring hair's electrical balance.
Who it's for: For all hair types, but especially beneficial for color and chemically-treated hair or hair exposed to harsh environmental conditions.
What it's free of: Formulated without Parabens, Mineral Oils, Phthalates, Paraffin, Petrolatum
Caviar: One of the most exclusive anti-aging ingredients given its abundant composition of essential amino acids, structuring peptides, proteins, essential fatty acids and trace elements. Intensely protects both hair and scalp and restructures broken down Keratin, all while restoring hydration, strength, and elasticity for more vibrant, youthful-looking hair.
Multi-vitamin B Complex: Cocktail of five B vitamins (Thiamine – B1, Riboflavin -B2, Nicotinamide - B3, Pantenol- B5, and Pyridoxine - B6), defends against oxidative stress, increases the protective and regenerative properties of hair´s natural keratin and promotes healthy hair growth.
Hydrolyzed Keratin Peptide: Repairs, replenishes and protects Keratin, the key structural component found in hair. Smoothes hair's surface resulting in a natural and beautiful luster while creating a protective film to protect against thermal damage. Restores hair fiber giving it body, volume and shine.
Choose your item
Reviews (0)
Must be logged in to write a review please login [Here]