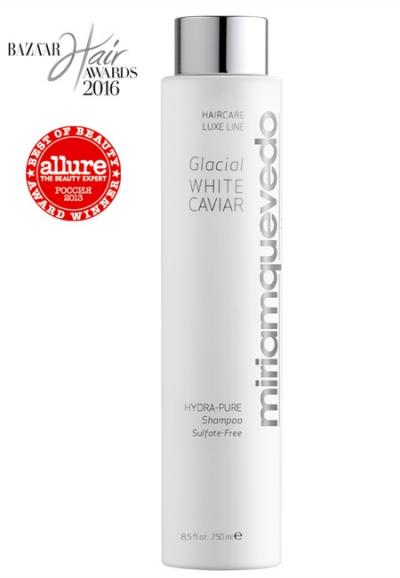 Miriam Quevedo Glacial White Caviar Hydra-Pure Shampoo
An ultra-mild rich cleansing shampoo as the first step in this ultra- moisturizing and anti-aging treatment ritual for sensitive, dry and damaged hair and scalps. It helps to rebalance the scalp's micro-flora, combatting scalp discomfort due to its mild cleanser, non-irritant. Its unique lightweight but highly concentrated formula maintains, replenishes and retains a continuous pure hydration. Its powerful antioxidant properties help hair recover elasticity, bounce and strength, leaving it, incredibly silky and bright.
Who it´s for: Ideal for sensitized, stressed, dehydrated and irritated scalps or hair. Also suitable for color or keratin treated hair.
White Caviar Oil: Oil extract from White caviar, rich in essential amino acids, structuring peptides, proteins, essential fatty acids and trace elements. High repairing, regenerating, moisturizing and protective activity of the hydro-lipid barrier. It acts against the aging process.
Encapsulated Swiss Glacial Water: It strengthens cutaneous penetration, increases resilience and the survival of cells at high temperatures. It protects from thermal aging and maintains, replenishes and retains a pure and continuous hydration.
Organic Baobab Oil: High antioxidant activity. It has great regenerating, soothing, conditioning, repairing and anti-inflammatory properties.
Complex of Edelweiss, Rice and Cotton flower extracts: High antioxidant activity. Natural photo-protector with anti-inflammatory and anti-bacterial properties. Hair color protector.
Keratin Protection & Rebuilding System: It rebuilds and repairs hair keratin, whilst maintaining the characteristic structure of hair fibers. It prevents heat damage acting as a macro-thermal protector.
Hyaluronic Acid Fraction: It acts as a membrane preventing moisture loss from the scalp. High moisturizing power. It adds shine, increases hair flexibility and has great capacity to form a protective film.
Scalp Hydrating and Calming Complex (Xylitol and Lactitol): It combats dryness, flaking and irritation. Immediate and long-lasting hydration. It regulates the flaking process and strengthens the cutaneous barrier.
Betaine Amino Acid: Essential for maintaining the skin's natural water balance and for retaining up to 40%. It increases the feeling of comfort, reduces irritation and protects the scalp.
A Natural surfactant derived from Oat: Derived from oat amino acids. Cleansing agent which leaves hair and scalp extremely soft. Sulfate-free. Highly tolerant
Panthenol: Provitamin B5 which protects, moisturizes, softens and brightens hair.
Choose your item
Reviews (0)
Must be logged in to write a review please login [Here]