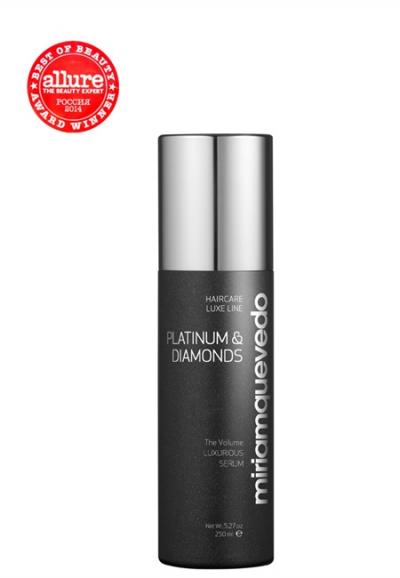 Miriam Quevedo Platinum & Diamonds Luxurious Serum
Innovation and luxury in this exclusive Platinum and Diamonds Volume Serum which caresses the hair, restoring its volume and extreme silkiness, and creating a sensual, unique and long- lasting Diamond Shine. Thanks to its advanced formula with Global Keratin Protection & Rebuilding System, Diamonds and Platinum powder, enveloping effect, Thermal Waters, and select, active ingredients, it rebuilds the hair, giving it renewed body and nourished scalp. The Keratin repairs and regenerates the electrical balance, and restores a unique and sensual diamond shine. Macro-Thermal protector: Inhibits and suppresses heat damage on the hair surface thanks to its new, advanced formula. Shrink-wrap effect that protects the cuticle from moisture loss during heat- styling processes, ensuring excellent results.
Who is it for: For all hair types, especially fine hair with little volume.
Diamond Powder: Treats the hair and scalp to the quintessential Luxury of Diamond Powder. Great regenerating, moisturizing and nourishing properties, with antioxidant activity. Diamond Powder restores a sensual and unique Diamond shine.
Platinum Powder: One of the world's most precious metals with revitalizing and anti-aging properties. It improves hair elasticity and helps maintain its electrical balance, so that essential substances can be absorbed more easily to keep the hair healthy. It also provides long-lasting hydration, depending on weather conditions. It also gives hair a soft Platinum radiance.
Keratin Protection & Rebuilding System: Rebuilds and repairs the keratin maintaining the characteristic structure of the hair fibers. Avoids heat damage thanks to its Macro-thermal protective action.
Thermal Water: Mineral water from Hot Springs Salies de Bearn des Gaves. It is classified as sodium chloride and is rich in Calcium, Magnesium, Iron, Manganese, Zinc and Copper.
Organic Argan Oil: Has amazing nourishing and revitalizing properties for the scalp and also strengthens the hair, leaving it soft and shiny.
Organic Acai Extract: Rich in anthocyanins (10 times the antioxidant power of red grapes), minerals and vitamins.
Organic Goji Extract: Concentrate of vitamins (B and C), minerals, amino acids and among others. It has high antioxidant action.
Orchid: Has hydrating, smoothing, anti-irritant and antioxidant properties, making it ideal for hair care products to protect hair against the daily aggressions of free radicals.
Volume agents: Promote hair volume.
Multi-vitamin B complex: Increases the protective and regenerative capacity of hair keratin.
Panthenol: Provitamin B5 which our body turns into vitamin B5. Increases moisturizing and freshness for longer-lasting, healthy hair. It is quickly assimilated by the scalp and avoids brittle, lifeless hair.
Caviar: Effective anti-aging action. One of the most selective and exclusive cosmetic ingredients, thanks to its lipoprotein complex. It protects the scalp and hair, and promotes restructuring. Excellent moisturizing and protective properties.
Choose your item
Reviews (0)
Must be logged in to write a review please login [Here]