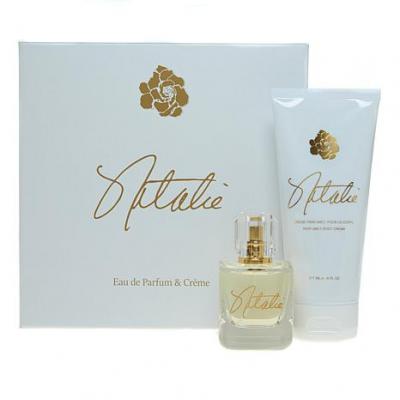 Natalie Perfume Gift Set
"One of the most cherished and intimate memories I have of my mom is her gardenia scent. The way my mom smelled always made me feel so safe and loved. After the birth of my daughter Clover I was overwhelmed with a feeling of deep joy and gratitude.I wanted to do something to honor my mom because the love that I always felt from her made becoming a mother feel so natural and effortless to me." Natasha
Hand-crafted in small batches, Natalie Fragrance features pure distilled essential oils and all natural ingredients. This fresh, sparkling floral scent opens with an alluring combination of freesia, neroli, bigarde zest and rose oil. The heart of the fragrance highlights signature gardenia wrapped with orange flower, narcissus, jasmine and hyacinth leading to harmonies of fresh vanilla, soft woods and skin musk. Natalie Eau de Parfum, the most concentrated fragrance form, is housed in a timeless glass falcon that makes the perfect addition to any fragrance portfolio.
This 2 piece gift set features the classic EDP as well as the brand new gardenia body cream. The glass bottle is handcrafted in France. The body creme tube is elegant and makes for easy application. "I remember my mom layering her body cream on first and then spritzing her fragrance in order to keep her scent going from day to night."
The gift box is classic and timeless with the classic gardenia flower. It can be used to store keepsakes and mementos once the body creme and fragrance is removed. "We have included a photo of my mom on her wedding day the second time around to my Daddy Wagner."
The card says Happy Mother Love Day. L'Amour Mere means Mother Love.
Fragrance and body cream DOES NOT contain parabens, sulfates, phthalates, mineral oil or formaldehyde. Enjoy the gift set and gift it to the ones you love.
Choose your item
Reviews (0)
Must be logged in to write a review please login [Here]