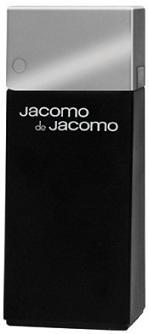 Jacomo de Jacomo for men
The Jacomo de Jacomo man does not load himself down with superficial items. He doesn't try to be different, he just naturally is and is well aware of it.

He stands out due to his assurance and self-control, in all circumstances and on all occasions. He affirms his nature with ease and elegance. He is at harmony with himself, serene and truly happy within.
Jacomo de Jacomo fragrance for men consists of the following notes:
TOP NOTES : Galbanum, Lavender, Cardamom, Lime, Grapefruit, Sage
MIDDLE NOTES : Rosewood, Geranium, Cinnamon, Clove, Cumin, Cyclamen
BASE NOTES: Patchouli, Plum-tree evernia, Cypress, Cedar, Iris, Musk
Choose your item
Reviews (0)
Must be logged in to write a review please login [Here]