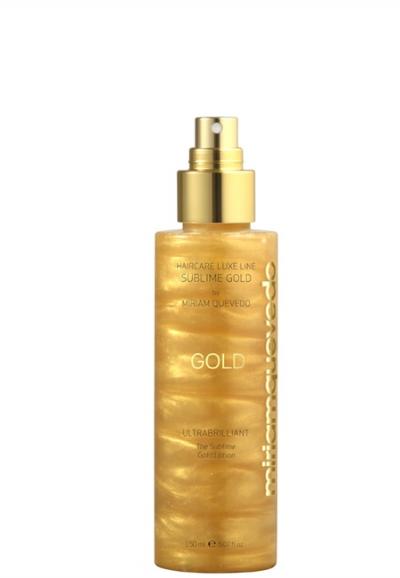 Miriam Quevedo Ultrabrilliant The Sublime Gold Lotion
A luxurious lotion that completely protects and revitalizes hair, bringing it renewed youth. Its luxurious active ingredients such as 24K Gold, Caviar and Organic Argan Oil nourish and regenerate the heart of the hair shaft and scalp for ultra-shiny hair, extreme silkiness and extraordinary vitality. Your hair will look radiantly alive with more sublime intensive golden highlights thanks to micronized gold powders. This lotion can also be sprayed onto your body for a radiant glow.
Who it's for: Anyone with medium-to-thick hair, and especially those with dry, damaged, dull or color-treated hair.
What it's free of: Formulated without Sulfates, Parabens, Mineral Oils, Phthalates, Paraffin, or Petrolatum.
24K Micronized Gold: Gold powder enhances hair's appearance with more vibrant golden highlights, and revitalizing action.
Caviar: One of the most exclusive anti-aging ingredients given its abundant composition of essential amino acids, structuring peptides, proteins, essential fatty acids and trace elements. Intensely protects both hair and scalp and restructures broken down Keratin, all while restoring hydration, strength, and elasticity for more vibrant, youthful-looking hair.
Organic Argan Oil: Has amazing nourishing and revitalizing properties for the scalp, and also strengthens hair, leaving it soft and shiny.
UVA & UVB Filters: Protects against external aggressions that can accelerate aging. Protects against color fading, discoloration and dryness resulting from sun exposure.
Vitamin E: Antioxidant, anti-free radicals, with nourishing and revitalizing properties
Shine Enhancing Agents: Provide an extreme shine and provides a smooth and silky hair.
Choose your item
Reviews (0)
Must be logged in to write a review please login [Here]