Browse by Ingredients
Please describe your Fragrance.You can choose up
to 3 ingredients
separated by commas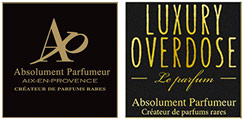 It was in 2016 that the quest for the absolute became true. For years Pascal Rolland sought to complete the Absolument Parfumeur range with an extraordinary perfume, always fascinated by the powdery notes in perfumes but hoping for more opulence. He dreamt of a powdery scent which could end on a note of freshness and still retain a nuance of sensuality. Once again Absinthe was combined with aromatic Ivy leaf, allowing the fresh final touch which makes Luxury Overdose the pioneer of a new trend: the fresh and powdery perfume.
There is no question that this was quite an innovative sensory feat. To emphasize the intense refinement of this creation, a new box and a new signature were needed. It was in a restaurant in Saint Tropez that this dramatic artistic idea was born.
A Photographer exposes his new creations somewhat provocatively with an idea: to elevate luxury to the extreme. The photos are inspired by the philosophy and emotion of LUXURY OVERDOSE, and to illustrate this he hangs the Luxury Overdose logo signature on the necks of his models as if they were living perfume bottles. The brand is vitally significant because it expresses our desire to break boundaries and go beyond the existing codes of luxury. To reach extravagant new olfactory heights, beyond any created before, in the mind or laboratory of any perfumer. This dream has come true for Pascal Rolland, and is his legacy.
This perfume bears the DNA of extravagant luxury, combining oriental and powdery top notes for an effect that is both intense and fresh at once. The sensual, soft-touch black bottle crowned with a gilded zamac cap seals the decadent fragrance within.Absinthe, the signature ingredient of the house, is blended with Artemisia to create an addictive formula that completely seduces the senses.