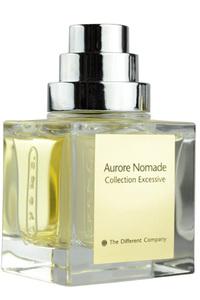 The Different Company Aurore Nomade
Aurore Nomade, or the heavenly travel

Oriental - Woody - We are on an heavenly island in the middle of the Ocean. It's seven AM and the first light of dawn illuminates this celestial landscape. The sand is already warm, the nature offers us its delicious and complex scents while the sun continues its inexorable rise in a clear blue sky. This is where Aurore Nomade takes you at a glance, a deep, solar and floral fragrance.

The Opening: Banana flower, Star Fruit, Cinnamon, Marine Notes, Nutmeg, Rum C02 and Davana.
The Heart: Ylang-ylang essential oil from Madagascar 4 % (from fair trade), Geranium of Egypt, Clove Nail, Frangipani tree, Indol.
The Imprint: Immortelle absolute, traces of Sandalwood, Amber, Vanilla, Musk.

Perfumer: Bertrand Duchaufour

The bottle: luxury bottle designed by Thierry de Baschmakoff as a master piece. In its glamorous box, such as a precious jewel .
Choose your item
Reviews (0)
Must be logged in to write a review please login [Here]