Browse by Ingredients
Please describe your Fragrance.You can choose up
to 3 ingredients
separated by commas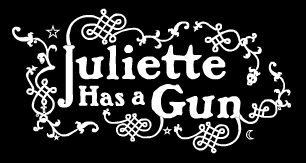 From NYC to Paris, Moscow or Sidney.... Juliette intrigues the world. Armed with her perfume, the Shakespearian heroine goes wild. Life is too short, and pleasures too many says Juliette.
The Gun, metaphor for the perfume, weapon of seduction, or simple accessory of bluff, essentially symbolizes the liberation of women towards men. And sometimes with a taste for revenge....
But the Concept is also influenced by romantism. A modern version, where reinventing couple and femininity is a constant quest.
Created and designed by young romano Ricci, Juliette has a gun is an indepenent brand. Launched in 2006 the approach to this perfume is to approach perfumery as an artform and to be sold in exclusive stores such as Parfums Raffy. Pick up a bottle of this exclusive perfume today and find out the secret of using perfume as a weapon.
Free Shipping On All Orders Over $75. (US)