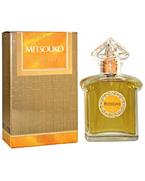 Mitsouko by Guerlain perfume for women
Mitsouko by Guerlain is a homage to the heroine of 'La bataille', the novel by Claude Farrère. It is the story of an impossible passion: Mitsouko, a beautiful Japanese woman and the wife of Admiral Togo, is secretly loved by a British officer. In 1905, when war breaks out between Russia and Japan, Mitsouko awaits with dignity the outcome of the battle, nobly overcoming her feelings.

The bottle is identical to that of L'Heure Bleue. It is said that the two bottles open and close the period between the beginning and the end of the war.

Ingredients:
Bergamot, peach, jasmine, may rose, spices, oak moss, vetiver, and wood. Winner 2007 Basenotes Awards for Best Women's designer, mainstream or fine fragrance.
Choose your item
Reviews (0)
Must be logged in to write a review please login [Here]