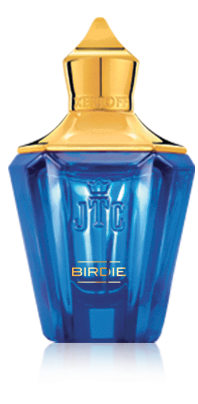 Xerjoff Join the Club Birdie
Birdie by Xerjoff JTC is the perfume that envelopes the dazzling green horizons of the most exclusive golf courses, the relaxing atmosphere that you breathe, lit up by a bright light.
In short, Birdie's essence: the golf club that stretches over a manicured green carpet, a course that is an oasis of rejuvenating well being, where challenges are compelling in a calm tone, surrounded by the trees that act as its frame. The only muffled sounds that awaken the quiet of the place are those of clubs hitting balls, their trajectory perfect, the outcome of technique and concentration. The atmosphere is clear and sunlit, perfect for reconciling spirit and gesture, in fluid movements of meticulous precision.
Time passes in a succession of lively swings while the sun behind sinks in a sunset of breathtaking colours. It could be Palm Beach or a corner of the elegant island of Sicily in Europe: the ambient is always international and reserved, the sensation of calm and beauty is unique. One game at the Birdie Club is a privilege for its players, a hedonism that expresses vitality and joie de vivre, in a context of elegant luxury.
It was impossible for Xerjoff not to get a thrilling inspiration that underlines the pleasure of a golf game among leisure and expertise.
Choose your item
Reviews (0)
Must be logged in to write a review please login [Here]